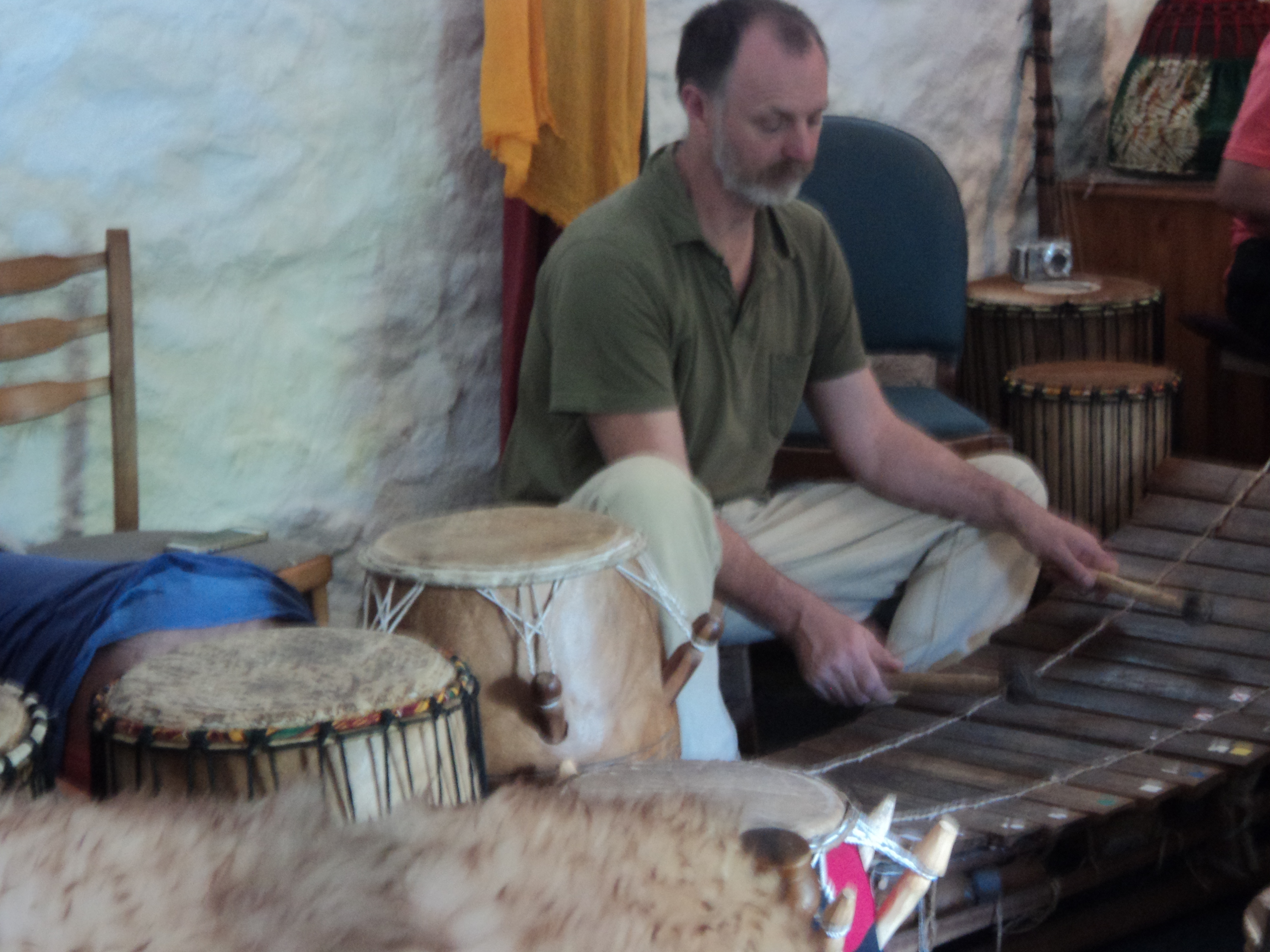 Ghana Good's director Ben Lawrence, is a renowned teacher and percussionist who has been teaching and performing African music for over 20 years. He is also involved in composing and performing for the Drum Orchestra and his Xylophone band Mpasem.
Ben has been travelling between the UK and Ghana regularly for 17 years, learning from and performing with some of Ghana's leading performers and teachers.
Ben teaches a program of residential courses, weekend workshops and evening classes, and teaches regularly at many festivals including Drum Camp, Tribe of Doris and African Beats Camp.
We are delighted to have Ben back again at Nanquidno after the successful residentials in May and September for the past three years.
The way courses are structured at Nanquidno allows participants time in the afternoons to explore and enjoy the local area and its many places of interest.
Ben's teaching is very inclusive and allows people of all levels to participate and enjoy. We also share lovely meals together in and around the Farmhouse. (Camping or B&B)
Full details of courses/prices etc. available on:
See also: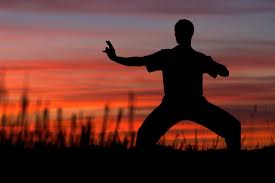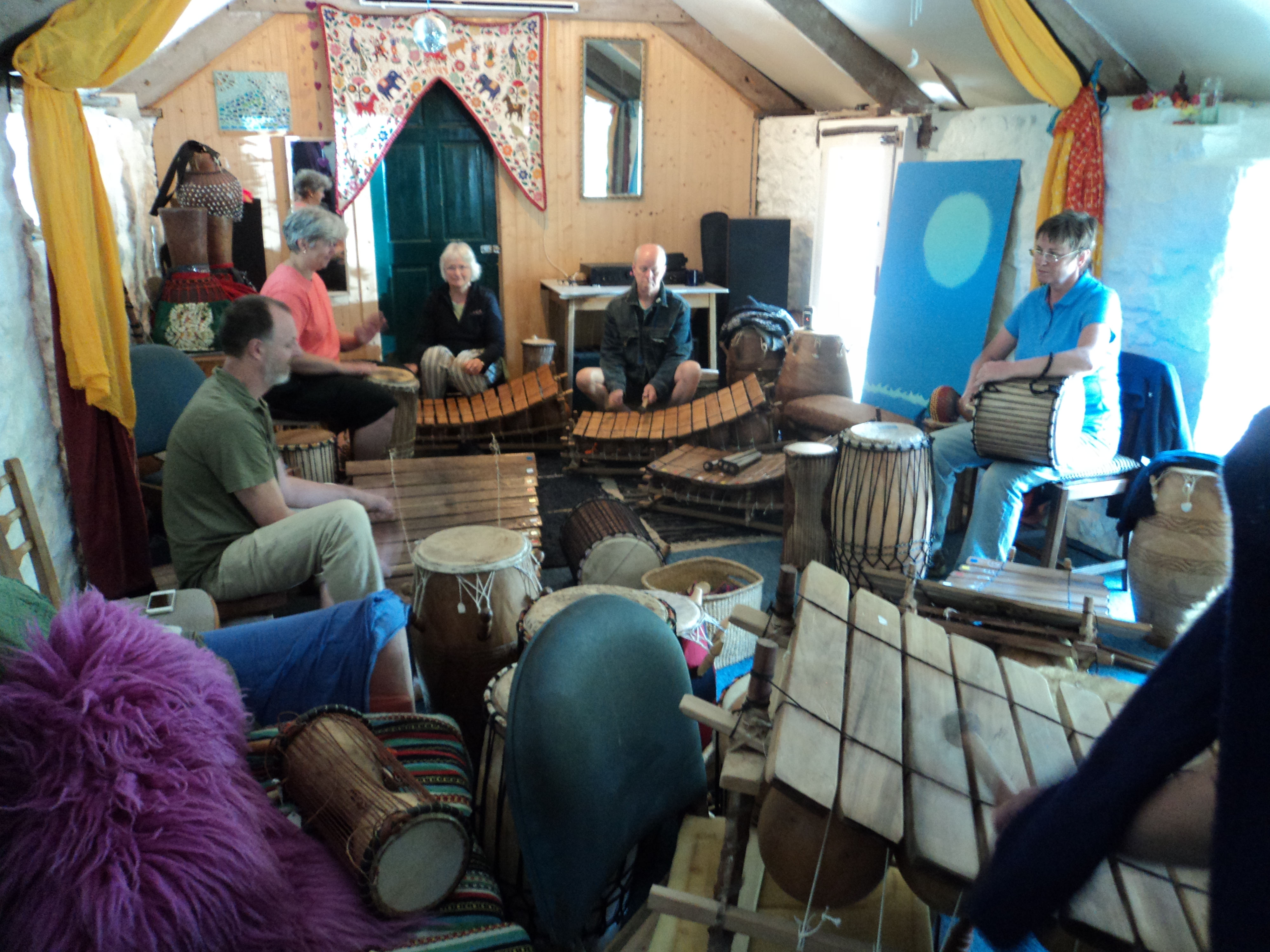 Above : Ben in action during drum and xylophone workshops at Nanquidno.
Sessions take place in the Bothy, a converted piggery.
Circus Skills
Jo is a qualified Arts Practitioner and has been teaching people of all ages and abilities for the last 15 years.
Workshops in making your own poi, juggling bags, flower stick, staff or hula hoop and learning how to use them are available on request..
Learn to stilt walk, rolla bolla, spin plates, play diabolo and any of the above. Dress up and make your own circus show. (Great for rainy days!).
Circus skills are fun to learn as well as enabling us to improve balance, co-ordination, concentration and have a great sense of achievement.
Please contact Jo on 01736788463 to discuss workshops.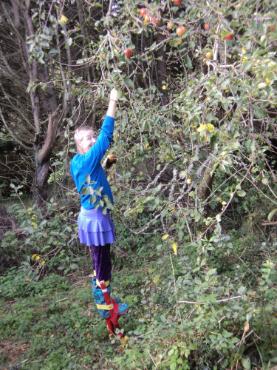 Local Festivals 2017
GOLOWAN FESTIVAL Starts on 16th June through to 25th June.
Full scale Arts and Community Festival in Penzance to celebrate midsummer ends in a lively weekend of parades, music and open air performance.
www.golowan.org
LAFROWDA FESTIVAL Starts on 1st July with Lafrowda Day on Saturday 15th July.
St Just's annual Festival of Arts and music, celebrating community arts culminates with an all day fiesta on the Saturday.
www.lafrowda-festival.co.uk
MORVAH PASTY DAY First Tuesday in August.
Small community festival in the village of morvah. Food, live music and CORNISH PASTIES !
www.morvah.com
NEWLYN FISH FESTIVAL. 28th August (Bank Holiday Monday)
Set in Newlyn harbour with live music, stalls and all things fishy. Display and auction of locally caught fish. Cooking displays. Lugger and gig racing, harbour demonstration, open fishing boats.
www.newlynfishfestival.org.uk
ST. IVES FESTIVAL. 9th-23th September. Very popular and varied festival marks the end of the summer. Two weeks of music, art and culture throughout St Ives brings the town to life.
www.stivesseptemberfestival.co.uk