The area of Lands End or Penwith is renowned for its history. It is a living museum with visible remnants from the earliest inhabitants up to the cornish tin mines of the 20th century. (Penwith contains about 800 known visible archaeoligical sights)
There are many sights of interest within half an hours drive of Nanquidno and a number within walking distance, including a bronze age village in the valley itself. Also nearby are the ancient settlement of Carn Euny and Holy Well, Chapel Carn Brea with its sweeping view of the area and remains of the ancient hill fort at Bartinney. There are sacred stone circles at Boscawen-un (shown right), the dancing stones at Tregeseal and numerous standing stones, ancient settlements and burial mounds of ancient kings. Slightly further afield is The Merry Maidens stone circle, the well preserved settlement at Chysauster, Lanyon Quoit and the iconic Men-an-Tol (shown above).
You can view and download a pleasant circular walk from the nearby Chapel Carn Brea, about a mile from the farmhouse, which takes in 5 historic sites including Carn Euny at www.parow.org.uk
For more details of local ancient sites try: www.cornwallinfocus.co.uk/history/minitour or Craig Weatherhill's Belerion, Ancient Sights Of Land's End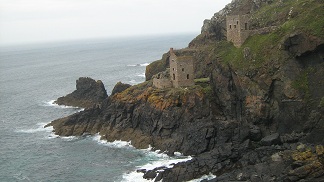 Above: Crowns Mines hang dramatically on the cliff edge
A journey up the coast north from St Just will take you through a different landscape, past the dramatic cliff-hanging Crowns Mines to the remnants of Geevor Tin Mine, once the lifeblood of the area It is now open to the public with guided tours underground by former miners and a good local cafe serving some of the best pasties in the area.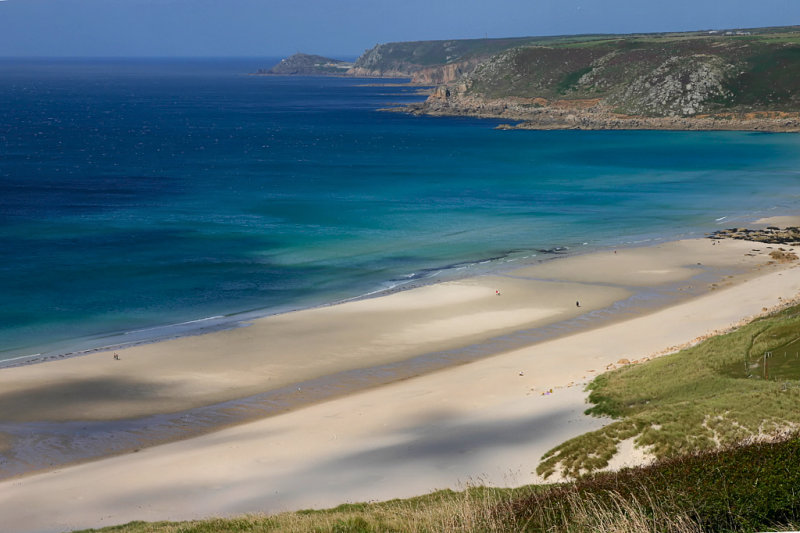 Above: Sennen Cove
Sennen Cove
About a mile north of Lands End is Britains most westerly beach Sennen Cove, a popular destination for surfers and beach lovers. It sits at the bottom of a steep hill in a sheltered bay and has a long sandy beach which is patrolled by life guards during the summer season. Sennen Cove has become renowned for its surfing conditions tending to be to be slightly more protected from winds and swell than Gwenvor at the other end of the beach. Surf gear can be hired and surfing lessons arranged with the local surf school. There are two paying car parks at the top and bottom of the hill with a post office, supermarket, craft gallery and a selection of cafes, pubs and takeaways all available in and around Sennen.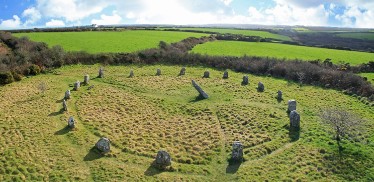 Above: Boscawen-un Stone Circle
Below: St Just town square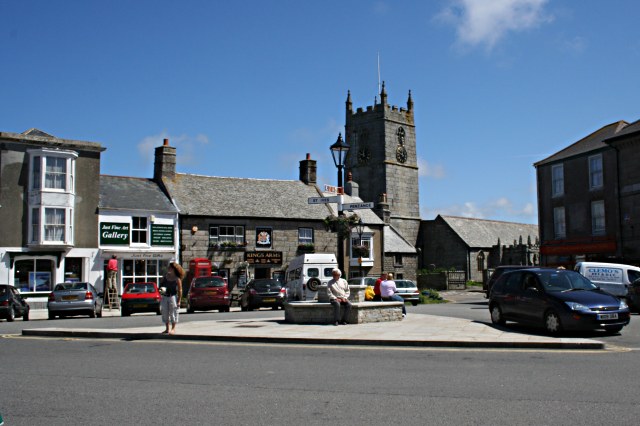 St Just
The local town of St Just is the most westerly town in England and retains much of its character. Once the centre of the local tin mining industry, it is still a busy town with local shops, pubs, takeaways, cafes and art galleries. In July, the town hosts the increasingly popular local Festival, Lafrowda Day, well known for its colourful parades, images and live music. For more info see: www.lafrowdafestival.co.uk
Nearby is the rugged Atlantic coastline including the scenic Cape Cornwall, the most westerly cape in England once the site of a busy harbour and bustling tin mining industry. It is still popular with visitors for its view of the Brisons, two small rocky islands and for the Cape Cornwall Golf Club.
North of St Just is a winding scenic route to St Ives passing through Botallack, past Geevor Mine, the lighthouse at Pendeen, Morvah, Gurnards Head and Zennor.
Below: a colourful Lafrowda Day scene