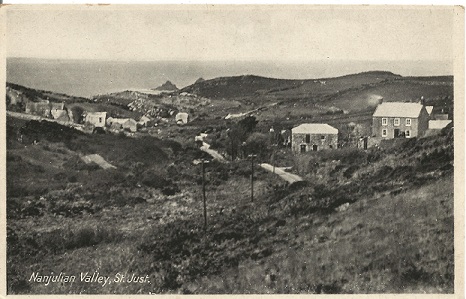 The Land of Nanquidno
Nanquidno is a special place, very sheltered for such a westerly location, hidden away from wild winds and almost frost free.
In the past, as can be seen in the old postcard on the left, there was hardly a tree in the valley, but now thanks to the efforts of the inhabitants that is changing and woodlands are returning
In the 19th and for much of the 20th century, Nanquidno (or as some say Nanjulian) valley was a thriving, self sufficient community. Tin mining, fishing and farming all took place here.
There was a working mill, a chapel and a school at the end of the lane and sufficient numbers lived here to justify a bus stop at the front of the farm. Land was cleared to fill with cows and other livestock and trees disappeared.